JRS Kenya: A Sweet Ending to a New Beginning
21 February 2023
|

Rozine Irabaruta and Paula Casado Aguirregabiria
Usually, the way we talk about graduation in Kenya, we focus on the event itself. Often, the focus is the way people will dress, what they will eat, and how they will have fun, but not much on the journey itself. Focusing on the journey involves the challenges students face, the days they didn't feel the need to study, or even the days when their hopes of completing their courses were fading.
On January 31st, JRS Kenya celebrated the graduation of 20 students in Nairobi, and in February an additional 18 graduates in the Kakuma Refugee Camp. It was an honor for Racheal Sears, Executive Director of Southern New Hampshire University (SNHU), to be in our presence for the ceremony.
SNHU is a private, nonprofit university founded in 1932 by Harry Shapiro based in Manchester, New Hampshire (USA), offering various platforms of study; online, on campus, and at regional centers. The university offers courses in Communications, Healthcare Management, and Business Management; on a competence basis.
Who would have known that the first computer installation in the school in 1968 would lead to a life-giving legacy to young adults around the world, who may not have the opportunity for education, and capacity as a gateway for our learning and a brighter economic future?
Currently, SNHU serves over 130,000 learners worldwide, both online and on campus. Moreover, in Kenya, the SNHU provides educational programmes to 137 refugee students, 55 based in Kenya and 77 in Kakuma camp. We can choose a 2-year associate degree (AS) in general studies or a BA in a specialized field of work.
In partnership with SNHU, Jesuit Refugee Service (JRS) ensures that students receive all they need to access a superior education, scholarships, and learning resources needed to succeed in college. Additionally, they have built classrooms, a library, supplied a career guidance staff, and resourced a network of companies and organizations for our professional placement are all part of the collaboration.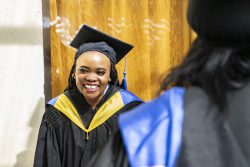 JRS and SNHU GEM understand the difficulties refugees face. Considering language barriers, access to health care, socioeconomic inclusions, and education, the challenges of refugees illuminate some entanglements that may hinder students' education completion. Nevertheless, the opportunity JRS and SNHU GEM afford makes it possible to take this educational journal.
In reflection, graduation is an event where students get to appreciate what made them reach that particular point in their life: driven by their coaches, parents, donors, or organizations that make education happen. Also, it is a milestone that tells how far one has come, as you keep learning, trying, accomplishing, and journeying through life pursuing your professional goals.
No doubt explainable joy, gratitude, and prayers flanked the event as graduates celebrated with their guardians and friends.
Graduation is indeed an exciting time, which marks both an ending and a beginning; it's warm memories of the past and big dreams for the future.
NHU has opened a gate of opportunities I never knew existed or I would need, and for that, I am so grateful to them and JRS for this scholarship, this girl of 2019 is different from a girl saying this now.
BENITHA NYAZANGA, SNHU GRADUATE